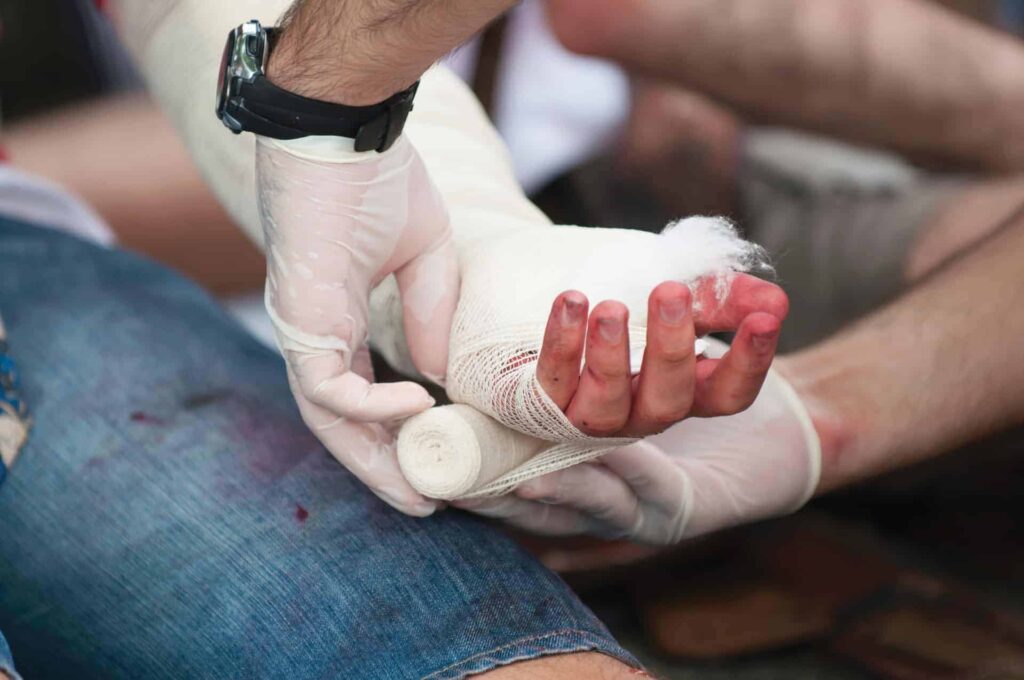 Administering first aid skills quickly and effectively may well mean the difference between life and death, or how successfully a patient recovers from their emergency event or illness. Accidents or life-threatening emergencies can happen to anyone, at any time and anywhere.
That is why the Occupational Health and Safety Act 85 of 1993 and the Department of Labour enforces compliance to this act, requiring all employers to have sufficiently trained first aiders and first aid resources in the workplace.  
Absolute Health Services can assist you with all your first aid NQF Level 1 training and first aid equipment requirements. On completion of the First Aid NQF level 1 Course, delegates will be equipped with important first aid knowledge and skills, enabling them to assist patients who need emergency first aid assistance.
The course will include content and facilitation on the specific outcomes and modules listed below.  
Specific Outcomes:
Demonstrate an understanding of elementary anatomy and physiology 
Assess an emergency situation 
Apply first aid procedures to the life-threatening situation 
Treat common injuries
First Aid NQF Level 1 Course Content and Modules:
Introduction, principles of first aid, legal aspects and scene safety.  

Positioning and elementary anatomy and physiology.  

Scene survey and casualty assessment.  

Cardio-pulmonary resuscitation (CPR) and choking.  

Shock and fainting.  

Bleeding, wounds and burns.  

Fractures, sprains and strains.  

Head, spinal, chest and abdominal injuries.  

Environmental emergencies, bites, stings and poisoning.  

Medical emergencies.  

Triage and record keeping.
Price:
The course is R895.00 excluding VAT
Duration of the course:
2 days facilitation and submission of a workplace practical learning assignment
Certification:
The delegates will be issued with a certificate within 14 days once they have attended the course 
Venues:
Facilitation of the courses can be conducted on-site at your if you have a minimum of 8 delegates, or at one of our training venues in Johannesburg, Durban, Port Elizabeth, or Cape Town
Lerato Mohata
08:55 24 Nov 23
ThabitsoWent further than the call of duty, excellent communication skills and sound knowledge, encouraged the learning environment.
See All Reviews